3 - DAY INTENSIVE HAIRSTROKES CLASS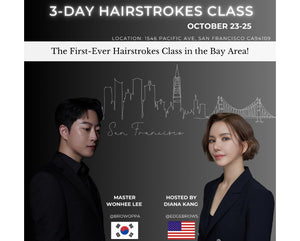 (October 23-25, 2023)
Master the art of flawless eyebrows with Browoppa's exclusive 3-day Hairstrokes class! Ready to become a brow maestro?

Highlights:
- Live model demos: See Browoppa in action with 2 captivating live demonstrations.
- Hands-on training: Get guided practice on live models and learn 5 different Hairstrokes patterns.
- Certification: Gain recognition for your newfound expertise.
Why choose Browoppa?
1. Unmatched Expertise: Learn from one of the PMU industry's best. Our instructors are renowned brow artists, driven by perfection.
2. Hands-On Experience: Observe and work alongside skilled instructors on live models, ensuring you gain confidence and precision.
3. Stay Ahead: Bring cutting-edge Hairstrokes techniques to your own clients and stay on top of industry trends.
4. Exclusive opportunity: Be part of One of the first-ever hairstrokes classes in the Bay Area. Stand out from the competition and advance your career.
5. Networking Advantage: Connect with industry professionals, create valuable relationships and open doors to exciting collaborations.
Don't miss out on this incredible opportunity to step up to your 2023 brow game. 3 spots left!
Reserve yours now at
book here
or call
415-573-6329
.
Unleash your brow artistry with Browoppa and elevate your career to new heights!
Here's what you can expect each day: